Robotic Assisted
Surgical System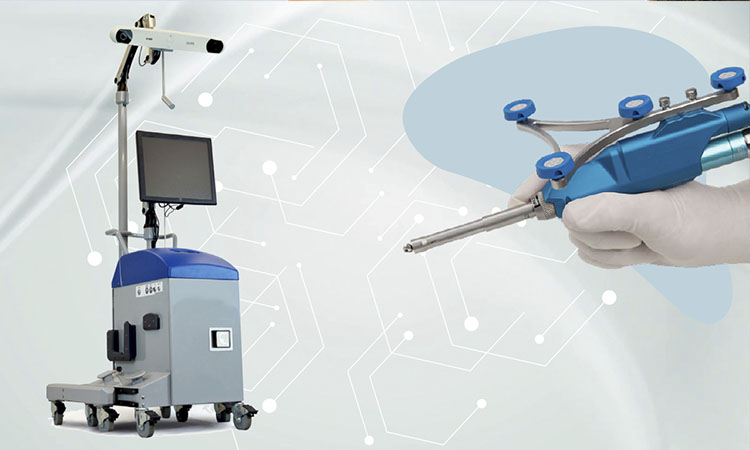 The robotic-assisted technology ensures performance of surgery with more precision and accuracy. Robotic-assistance is integrated with handheld instrumentation aimed to guide the surgeon at every step. It mainly focuses on customized patient-planning considering the shape, size and motion of the knee joint because correct placement and alignment of knee joint is extremely crucial as it determines the life of the patient's implant.
The Robotic-assisted surgical system helped in eliminating CT/MRI Scans making surgeries more simple and accurate. It has reported success and efficiency in both, partial and total knee replacement surgeries.
How it works: The Unicondylar and Patellofemoral (UNI and PFJ) guide the surgeon in creating implant plans that localize components and balance soft-tissue. Then, the robotic-assisted technology translates this information into a virtual plan, thereby eliminating the need of standard mechanical procedures, cuts and jigs. The robotic-assisted execution provides the surgeon with a 3D colour map of the knee replacement plan to be executed through handheld instrumentation. This offers multiple control modes, enabling the surgeon to accurately prepare the bone for knee replacement.
Salient Features of robotic-assisted technology
Hand-held Robotics - It ensures precision and enables producing repeatable results.
CT-Scan Free- The intra-operative technology enables mapping o f anatomy, creating a virtual 3D model for visualizing during the surgery.
Patient Planning- The structure, shape, size and motion of knee is unique to every patient. So a customized surgical plan enables the surgeon to perform the procedure with higher accuracy and precision.
Small Footprint- OR-friendly design and streamlined pre-operative set up integrates easily into existing ORs.
Multi-implant platform- It allows free use of any of our unicondylar implants.
Others : There are many other benefits like Smaller Incisions, Less Pain, Higher Precision and Accuracy, Comfort of natural Knee joint and Faster Recovery