Parekhs Hospital - Best Corona Hospital in Ahmedabad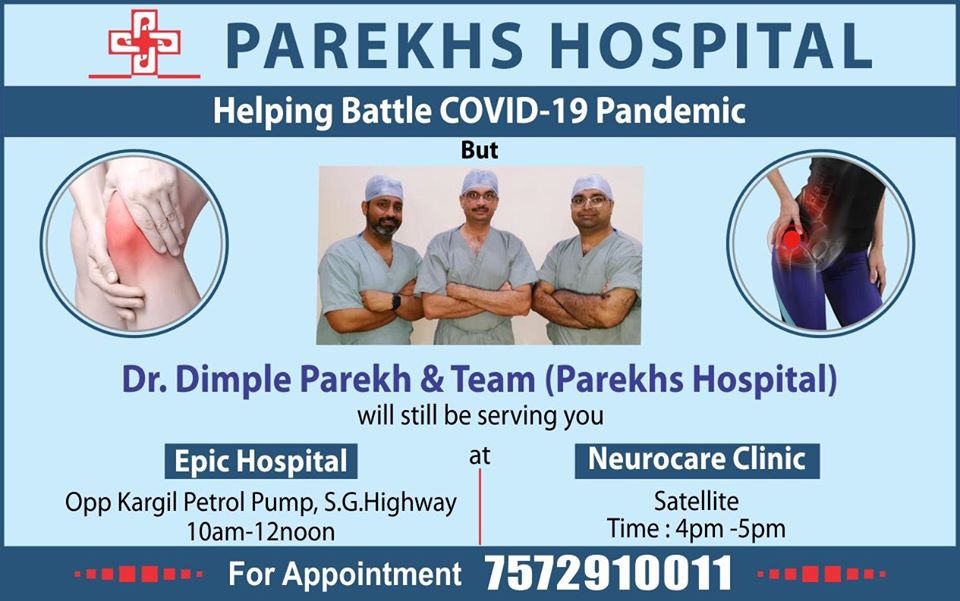 Parekhs Hospital – Best Coronavirus(COVID-19) Hospital in Ahmedabad, Gujarat
Parekhs Hospital is the Best Corona Hospital in Ahmedabad, Gujarat. With ready to serve Covid-19 team and specialists we proudly claim to be one of the leading government approved hospital with a 98 percent recovery rate. We take complete care of patients' hygiene and meals. So if you have any symptoms of COVID -19. We have the Best Corona Doctor in Ahmedabad with the highest patient satisfaction and success rates across the entire country.

Parekhs Hospital is the No 1 Corona Hospital in Ahmedabad, who along with his professional team of doctors provides personalized medical assistance to their patients. Our team of doctors is a highly trained and experienced one.

Dedicated COVID Hospitals in Ahmedabad will offer complete care for those who have been clinically assigned as severe and these should be either a full hospital or a separate section in a hospital.
These hospitals will have fully provided intensive care units, ventilators, and beds with oxygen assistance. If you are living in Satellite, then You Can find a corona hospital near me, the best corona hospital near me Ahmedabad, Gujarat.
Corona Virus Pandemic and COVID -19: What you should know?
What is the 2019 Corona Virus?
A coronavirus is a kind of common virus that creates an infection in your nose, sinuses, or throat. A newly identified coronavirus, SARS-CoV-2, has caused a global pandemic of respiratory disease, called COVID-19.
It spreads the same way other coronaviruses do, mainly by person-to-person connection. Infections range from mild to dangerous.
It spreads the same way other coronaviruses do, mainly by person-to-person connection. Infections range from mild to dangerous.
A novel strain of coronavirus — SARS-CoV-2 — was first detected in December 2019 in Wuhan, China's Hubei province with a population of 11 million, after an outbreak of pneumonia without an obvious cause.
What are the symptoms?
Doctors are studying new information about this disease every day. So far, we know that CoronaVirus may not initially cause any symptoms for some people.
You may carry the virus for two days or up to Two weeks trusted Source before you notice symptoms.
Symptoms of COVID-19
=>>Fever
=>>Cough
=>>Shortness of breath
=>>Chills
=>>Fatigue
=>>Headache
=>>Loss of taste or smell
=>>Nausea or vomiting
=>>Congestion or runny nose
What causes a coronavirus infection?
Humans first get a coronavirus from contact with animals. Then, it can spread from person to person. Healthcare providers do not know what animal caused COVID-19.
While Medical researchers are certain that coronavirus circulates through When humans breathe, talk, sing, cough, or sneeze. mucus or saliva and droplets expelled by coughing or sneezing, it is unclear if the virus is spread through other bodily liquids, such as tears.
To prevent the spread of COVID-19:
1. Wash your hands regularly. Use soap and water, or an alcohol-based hand rub.
2. Maintain at least one meter from anyone who is coughing or sneezing.
3. Wear a mask when social distancing is not possible.
4. Don't touch your eyes, nose, or mouth.
5. Stay home when you are sick.
6. if you have a fever and cough or other cold or flu symptoms but are otherwise healthy, are under age 60, aren't having difficulty breathing, and don't feel seriously ill, you're better off caring for yourself at home.
7. Consult your local medical expert to quickly direct you to the right health facility. This protects you and stops the spread of viruses and other diseases.
8. Clean and disinfect frequently infected objects and surfaces.
Monitor Your Health Daily
9. Masks can help prevent the spread of the virus from the person wearing the mask to others. Masks alone do not protect against COVID-19 and should be combined with physical distancing and hand sanitation.
What type of treatment is available for the novel coronavirus?
Currently, no medication is recommended to treat COVID-19, and no remedy is ready. Antibiotics aren't efficient against viral diseases such as COVID-19. Scientists are testing a variety of possible strategies.
However, researchers need to perform Controlled human clinical trials in humans before possible vaccines and other treatments become available. This may take several months or longer.
FDA Revokes Emergency Use Authorization for Chloroquine and Hydroxychloroquine, advising people to be cautious of websites and stores selling products that claim to prevent, treat, or cure COVID-19.
Patient Testimonial: Recovered from Covid-19 in Parekhs Hospital Ahmedabad